THE MARKETPLACE
Here, in "The Marketplace", you can find an explanation of the versions of the novel which are available for sale, and the official sales platforms where you can get copies. Basically, at this time, there are two versions out there.
VERSION ONE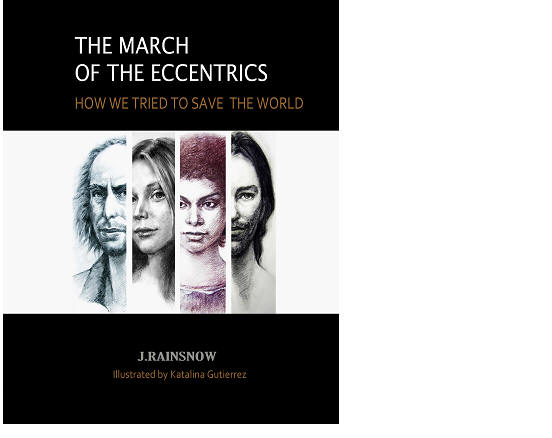 This is the illustrated PDF version. [ISBN # 978-0-9862 122-0-8] At this time, it is officially available only through my sales platform on Sellfy (any other sales venue is not legitimate). This version enjoys all the advantages which PDF has to offer, including a stable presentation on the page, and the possibility of seamlessly adding abundant illustrations, which we have done, thanks to the collaboration of gifted artist Katalina Gutierrez. (If my math is correct, it contains 14 portraits and 46 illustrations. I love them all, and think they are a real boost to the presentation. Thank you, Katalina!) I originally believed this version would do best on a desktop or laptop, but as of late 2015 I have been getting good reports from tablet-users and smartphone-users, as well. For this March of the Eccentrics option we are asking $6.99 U.S. Considering the fact that it took over thirty years to complete and is over 6,000 pages long, I think it is a good bargain! I hope you will consider indulging yourself with a copy. BTW: For those readers potentially appalled by the thought of undertaking such a long read, never fear! The finished novel, prepped with you in mind, is equipped with a detailed 'navigational system' which enables the story to be broken up into a number of discrete units which may be read separately, just like the adventures of Sherlock Holmes or the individual Harry Potter novels. A Glossary/"Who's Who & What's What", located on THIS site, is also available as a companion to the novel. (See: http://www.marchoftheeccentrics.com/blog_cycle_4.html .) Read in that way, the current version of The March of the Eccentrics is akin to having a series of 10-12 books bound together in a single edition. Once again, underline the word "bargain"!
To get your copy, follow the link below:
Buy now
VERSION TWO
Note the subtle difference here: this version's cover does not say "Illustrated by Katalina Gutierrez", but rather, "Cover Design by Katalina Gutierrez." This is the KDP (Kindle Direct Publishing)/Amazon version, which we decided to publish without interior illustrations due to the problematic nature of doing an image-heavy presentation in a reflowable format oriented for the small screen. The advantages, however, are this: the reflowable format is highly adaptable, and better suited for use on many of our contemporary electronic reading devices, which are, themselves, well-suited for the modern, mobile reader who has wearied of lugging around a heavy laptop. [ISBN # 978-0-9862 122-1-5] The price we are asking for is $2.99 U.S. which, once again, should not break the bank!
To get your copy of this version, simply click on the following link: http://www.amazon.com/dp/B00QO46SAM (I like this better than a "buy button", it is like a magical incantation...)
My own, personal purchasing recommendation? ... Why not buy both versions, the one for your desktop/laptop, the other for your 'other' e-book reader/device?! (NOTE: As previously stated, according to user reviews, the PDF version seems to be doing much better on small screens that originally anticipated, so it may no longer need to be considered as best purchased for the big guys.)
HAPPY READING!
Home Bio Blog Art News Links Contact